Modular Homes Designs
TOP 100 Series (1 to 10)
As a fan of transportable homes, I believe the greater majority of traditionally built homes have the capacity to be built in a modular fashion. This series of TOP 100 homes gives you an idea of what is possible and an overview of what already exists in the marketplace.
Modern Modular Homes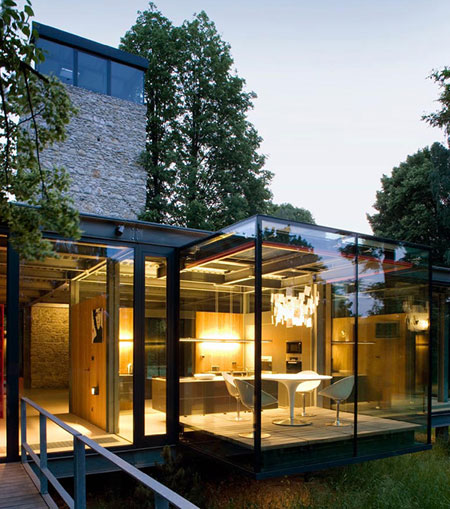 A great example of bringing the outdoors in. The glass dining area is suspended to give the feeling of eating outside.
Utilising stone and neutral colours, this home blends into the natural environment.
The suspended portions of this home create less impact on the fora and fauna.
Elevated access to this modern modular home gives a unique and relatively cost effective entrance.
This home is very quite plain in design and yet has the 'wow factor'.
Container Prefab
This super bright and breezy style of prefabricated home is ideal as a sleep-out for a teenager. Or, as a relocatable home away from home where an artist can create, without distractions or interuptions.
Light, airy and minimalistic; this tiny home is a cheap alternative to traditional self-contained sleep-outs.
Transportable Homes
This home illustrates how a very plain box shape can become modernised. Giving an entirely new feel to the building.
Sometimes, just the finishing touches of a relocatable home can make a substantial difference to the overall look.
Modular Homes
A good example of remote locality; this home could have been 'stacked'. Two transportable homes solutions could be-
1. Using a helicopter to place the modules on site, or
2. Bringing in a crane by barge and lifting the modules into place from other barges.
Container Prefab Homes
An example of a super modern containerised prefab home.
Two-storey and complete with balcony, stairs and clever covered entrance; this is a viable option for affordable housing.
Both modules have the same layout with the door in the same position.
Glass Modular Homes
If you enjoy the outdoors, then this could be the ultimate relocatable home. Set on a very low plinth, this home blends seamlessly with its environment.
During the Summer months, this style of home relies on the trees for shading from the sun. In the winter, deciduous trees let the sun stream through the windows all day.
Portable Homes
Positioned on a lake, this weekender could successfully be transported by barge. By having a folding roof-line this could reduce the building to only one module needing to be transported; then lifted into positioned by crane.
An alternative to barge would be helicopter. In saying that, the type of helicopter capable of lifting such a load is very expensive and not readily available for domestic purposes.
Super Modern Modular Homes
Modular homes do not need to be restricted to angular structures. Whilst true, that buildings with a curve tend to be more expensive. Sometimes the finishing of a transportable home can give the effect of being rounded or curved.
This home could be made using modular construction. However, this home is fundamentally an expensive oval design.
Prefab Homes
A yachtsman's alternative where one can moar his boat and continue to enjoy the quiet isolation and wonders of the sea.
Positioned in relatively shallow water. This marine-style prefab home could be erected using the same principles when building a wharf or marina.
Obviously, electricity, water and sewage are an issue with such an adventurous design.
Tracey's Overview
Although some of these designs are extreme, my intention was to broaden your horizons. So you could see any home as having the capacity to be built using modular construction methods; regardless of style, design or location.